It's been a few days now since a whirlwind trip to Bulgaria to meet our daughter. Shelly and I are getting back in the routine of work schedules and full-time school, which started
Monday
(yikes!). Last week was an experience we'll never forget. Shelly, as always, did an amazing job posting blog updates. To be quite honest, in the evenings after dinner I was ready to crash (or already asleep) while you were blogging. I am not a regular blogger, don't use Twitter and am rarely on Facebook, but I would like to briefly share last week and adoption in general from the perspective of "taty" or dear ol' dad.
When Ivelina came barreling into the room last Monday to meet us for the first time, it hit me like a ton of bricks. All of the praying, hoping, paperwork, fundraising, phone calls, emails, workbooks, online workshops, fingerprints, legal documents, travel arrangements, etc. over the last year and a half or so …. and now we are sitting in the room with her. We watched for the first few moments as she ran around and sort of did her thing. Ivelina is very energetic (a firecracker really) and she has quite the imagination. As the week progressed she became a little more comfortable with us, especially our last day at the orphanage
on Thursday
. Evie painted my fingernails (the clear kind that rubs off easily … whew!) but then she sharply announced to everyone that I did not have enough hair for any colorful hair clips. Then came the endless game where dad tosses Evie up in the air. I would ask her, "pak?" which meant "again?" and before I could barely get the words out of my mouth she responded with "da!" or "yes!" That game went on until I noticed Evie's head getting close to the ceiling. I don't think any of the orphanage staff noticed. Evie was able to help me after I picked up a couple of "illnesses" during the week … she put a band-aid on my injured foot and told me my stomach ache was a result of, well, gluttony basically. Evie let me push her on the swings on the playground for a few minutes before she got a little carried away with kicking dirt at the direction of some of the orphanage workers. That was all she wrote for outside time that day.
As Shelly described so vividly in her earlier post, saying goodbye
on Thursday
was tough. It was heart-breaking. I sat there watching as Evie's caretaker told her that we would not be coming back the next day. Evie looked confused for a few moments and then she wrapped her arms around Shelly, whose eyes began to well up a little. Actually I was really impressed. Shelly held it together. I mean, there we all were, several staff members, our translator and myself standing around staring at those two in the middle of the room. We left a photo album with her and the caretakers assured us they would remind her that we were coming back soon. Then, we left.
I couldn't sleep for the first two nights we were there in Shumen, especially after the day we met Evie. A hundred different things were going through my mind, some good, some not so good. Is this going to work? Are we going to be able to make the connection with her? How are we going to overcome the language barrier? How will we handle her special needs? The list goes on. My mind was consumed with fear and doubt. It was one "what if" after another. Why does this have to be so hard? Adoption is supposed to be a good thing, a positive thing! We are hopefully going to bring this little girl into a loving home, something she has not known in all of her seven years. I mean, come on God, can't you see this?
The whole adoption process has served as a powerful reminder that the world is not the way it's supposed to be. God made everything good (Genesis
1:31
) and "God is light; in him there is no darkness at all" (1 John 1:5). Our world has been corrupted with sin, which has infected us all. Marriages fall apart. Families have division. Child trafficking exists. Kids are abandoned by their parents. One of the main reasons we decided to adopt was because it is such an incredible picture of the gospel (Ephesians 2). We have been bought with the blood of the Lord Jesus Christ and adopted as sons and daughters of God. The Lord said He will never leave us or forsake us. I am not the hero, swooping in to rescue Evie from the orphanage. I am just a weak vessel in need of a strong Savior to guide me in everything, including my relationship with my beautiful wife and soon-to-be mom Shelly. We'll need His direction as we continue to pursue this little seven-year old girl from Bulgaria, remembering that He was the One who pursued us first.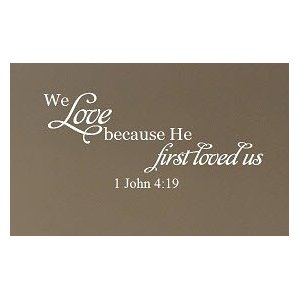 Hopefully in 4-6 months we'll be headed back to Eastern Europe to bring Evie home with us. If any moms or dads are reading this right now, they are probably thinking "yeah, you think it's tough now, wait until they come home." I can only imagine! Ah, the adventure continues. Shelly follows quite a few adoption blogs, many of which are put together by moms. I hope this encourages some of the dads along the adoption journey as well.
Thanks for reading! Jeremy
1 John 4:4